The ideal location for a stay in Provence
You've just parked in our private car park and left your suitcases in your room? Avignon finally awaits you!
In the heart of Provence, Avignon never stops surprising! A city with exceptional historical heritage, listed as a UNESCO World Heritage site, it stands out with its cultural, gastronomic and architectural riches.
The historic centre is a favourite district for travellers, just a ten minute walk from the hotel you can discover the Cité des Papes, along with Pont d'Avignon, the Basilique Notre Dame des Doms, the Basilique Saint Pierre, the colourful typical streets, and the theatres of the world famous Festival d'Avignon making it the ideal destination for lovers and families who love art, architecture and gastronomy. Our charming hotel is the ideal starting point for your stay in Provence.
Avignon is a never ending city of spectacles...
With its cobbled streets, cafes full of activity, wine tastings, a stroll through the halls to enjoy seasonal products, hot Provencal dishes, museums... the city of popes is alive and well! Among others, Cheval Passion and Les Hivernales de la Danse are unmissable winter events.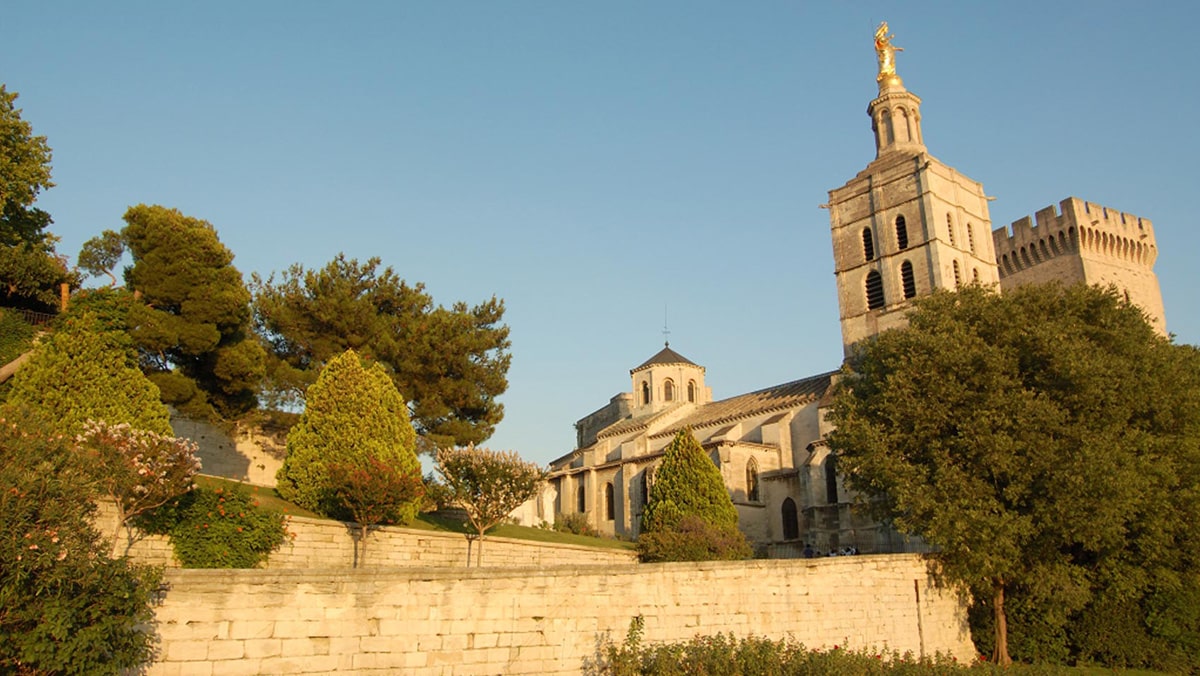 The ideal hotel to stay at during the Avignon Festival
AVIGNON FESTIVAL - SUMMER
The Avignon Festival is now one of the most important international events of contemporary live entertainment. Throughout the month of July, the streets teem with life, with carriage gates opening onto laughter, relaxation, and the charm of cultural escape. The Cloître Saint Louis hosts hosts certain events during the festival.
PRE-SEASON AND POST-SEASON: After the summer crowds, come and relax in Avignon, enjoy the maze of less crowded streets and stroll, visit, and enjoy a wonderful time freely and without hurry. In the medieval quarter of Avignon, events are held all year round for relaxing and refreshing stays.
The hotel is located close to the Théâtre Le Paris, the Théâtre Le Capitole (0.3 km), the Théâtre des Halles (0.5 km), the Opéra Théâtre (0.7 km), the Palais Royal (0.7 km), and the Cour d'Honneur du Palais des Papes (0.8 km).
Plan a visit to the Palais des Papes, Pont St Bénezet, Pont d'Avignon, the Musée du Petit Palais, Notre Dame des Doms: they're all just 10-15 minutes' walk away.
Have a fun tour of the city by Segway or around the region in a 2CV.
Location & Access
By train:
Avignon TGV (10 minutes away) connecting Paris in two and a half hours, Marseille in 20 minutes, and Lyon in one hour.
Avignon Gare Centre train station, 100m from the hotel, connecting the Avignon TGV to the city centre
By road:
A7 or A9 Avignon North & South (10 minutes)
Private parking - preferential rates
By air: Airport: Montfavet (10 minutes) / Marseille Provence (50 minutes)